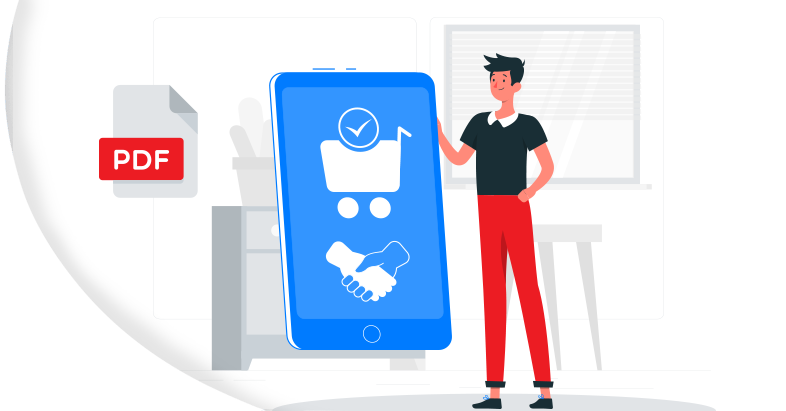 PDF Application Privacy Statement
Product Privacy Policy
This product privacy only applies to the installation relating to these instructions. If the PDF tool is installed in the client's Azure environment, it is seen as a customization and product privacy policy will language will be stated in a Master Services Agreement that will be signed by both the client and SoHo Dragon (SoHo).
We at SoHo are committed to protecting your privacy. This Product Privacy Policy applies to your use of SoHo's PDF Mark Up Tool (PDF Tool) Subscription Service as a customer of SoHo. This Product Privacy Policy describes how we collect, receive, use, store, share, transfer, and process your PDF Data for the PDF Tool. It also describes your choices regarding use, as well as your rights of access and correction of your Personal Data.
This Product Privacy Policy also describes how we process PDF file Data on behalf of our customers in connection with the PDF Tool. This Product Privacy Policy does not apply to any information or data collected by SoHo as a controller for other purposes, such as information collected on our websites, other application or through other channels for marketing purposes. Please find the SoHo Privacy Policy that covers this information or data by clicking here.
SoHo processes Customer (User) Data for the PDF MarkUp tool under the direction of our Customers, and has no direct control, access or ownership of the actual PDF File Data we process on behalf of our customers. Customers are responsible for complying with any regulations or laws that require providing notice, disclosure, and/or obtaining consent prior to transferring the PDF Data to SoHo Dragon for processing purposes. Terms not otherwise defined herein shall have the meaning as set forth in the SoHo Dragon Customer Terms of Service. In the event of a conflict between this Product Privacy Policy and the Customer Terms of Service, the terms of the Customer Terms of Service will control.
We periodically update this Product Privacy Policy. We will post any changes on this page and, if the changes are material, we will provide an update through the notification app in your admin email of the Subscription Service.
1. Use of the Subscription Service
A. The SoHo Dragon Subscription Service
The PDF Tool online Payment Subscription Service is performed by a 3rd party provider Recurly. See this link for their Privacy Policy, Terms of Service and Acceptable Use Policy.
The PDF Tool admin data such as email address and subscription ID is stored in Hubspot. See this link for their Privacy Policy
B. Use of data By Our Services
Our PDF Mark Up Tool customers use the PDF Mark Up Editor Subscription Service to only edit their PDF files. When customers use this Subscription Service, SoHo Dragon does not control or collect the content of PDF files or collect any personal user data other than:
Email address
Last Saved PDF file date
O365 Tenant ID
The PDF Tool file functionality is controlled and saved in the user's browser NOT in SoHo's hosted environment. Editing PDF information is controlled by the user's browser policies, disclosed and protected by their organization's O365 privacy policies in their environment.
2. How we Share Information we Collect
A. With Service Providers
We do not. This isn't our business model
B. In accordance with Compelled Disclosure
We reserve the right to use or disclose your collected Personal Data if required by law or if we reasonably believe that use or disclosure is necessary to protect our rights, protect
(1) O365 Integration
By using the 'O365 Integration' with the PDF Tool you will grant the SoHo access the customer's MS Graph API. This information is stated in the figure below: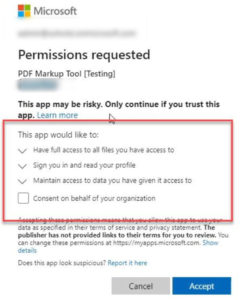 There is no access to user passwords, server information, email metadata, and message bodies.
(2) Azure Integration
The is no integration with the customer Azure environment.
Data Practices and Service Data
We automatically collect PDF save metrics and information about how Users interact with and use the Subscription Service. We use this information to develop and improve the PDF Tool. We do not share or publish this service data with third parties in an aggregated and anonymized manner. Using Azure App Insights we general anonymize information such as via our mobile applications, device identifier, and OS version.
3. Data Subject Requests
You may request the deletion of your email address or Subscription Service by sending a request here.
4. Data Retention
SoHo does not collect any PDF file data. User Data collected during your use of the Subscription Service is retained as long as you have a paid Subscription and/or remain an active customer in our system. Your data is deleted upon your written request or after an established period following the termination of all customer agreements. In general, Customer Data is deleted after your paid Subscription ends and your portal becomes inactive.
How We Transfer Data We Collect Internationally?
We do not . This come from your tenants MS Graph end point.
Privacy Shield Notice
With respect to personal data received or transferred pursuant to the Privacy Shield Framework, SoHo Dragon is subject to the regulatory enforcement powers of the U.S. Federal Trade Commission. In certain situations, SoHo Dragon may be required to disclose personal data in response to lawful requests by public authorities, including to meet national security or law enforcement requirements. You may direct any inquiries or complaints related to our Privacy Shield compliance here.