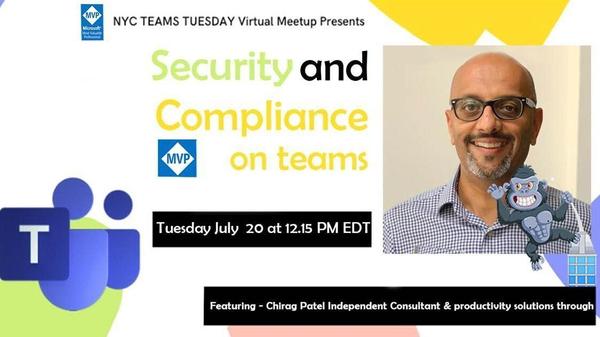 Security and Compliance on Teams
Content:
Bio:
Chirag Patel, MVP
Chirag (@techChirag) is an independent Microsoft 365 consultant at Patel Consulting, and Microsoft MVP (Office & Apps Services) based in London, UK with more than 20 years of industry experience. He is also a BCS Chartered IT Professional, Microsoft 365 Certified Enterprise Administrator Expert and TOGAF9 Certified Architect.
He works with a wide variety of clients in many sectors, designing and implementing business collaboration, data and information management solutions and services based on Microsoft Teams, SharePoint and Microsoft 365 technologies, Power Platform to create business value for both themselves and their customers, including UK Microsoft Gold Partners with deployment, upgrade and migration services delivery.
Chirag is also an organizer of Microsoft 365 UK (M365UK) user group and a frequent community speaker at local and international events including Power Saturdays, SharePoint Saturdays (London, Brussels, Paris, Madrid, Barcelona, India), Collab365, TeamsFest, Scottish Summit, Modern Workplace Summit, M365 Virtual Marathon and Commsverse. You can find him online at www.techchirag.com
https://www.linkedin.com/in/techchirag/
The link to the event: https://bit.ly/2Y1P1dH